I do not know/remember my password
You do not know the password for the school account after you created/restored the account.
When one creates a new school account, the initial password is also generated. The distribution of the initial password is described in Obtaining Credentials.
If your school account is restored in less than 6 months (e.g. you have no job contract for 3 months), your password will not change. If the interruption is longer (e.g. a student pauses between a bachelor's and a master's degree study), a new initial password is usually generated when the account is restored.

You do not remember your school account password.
If you have forgotten your school account password, you have the following options to obtain a temporary password:
Go to the nearest User Support Centre with ID card (or any other photo ID). And here your temporary password will be set. We have three User Support locations:
Use Password Recovery in InSIS. You must set the option to reset the password in advance.
Contact the administrator of your user group. Usually you also get login information from him.

Employees can contact the faculty SIF to set a temporary password.
Lifelong learning programs (various courses and training programs such as PCB, IOM, U3V) usually have an administrator who can set a temporary password for participants.
Programs for international students usually also have their administrators with the right to set temporary passwords.
External role users – if assigned to a faculty/department, the faculty SIF can help them. Some roles (such as external readers or external coordinators of stays) have their administrators to help.
The password set by another person (by user support, program administrator, …) is valid for 14 days. Set your new password in InSIS.
Recovery of School Account Password.
The forgotten password option is available on the InSIS login page. However, you must first set up your password recovery security information. These can be set after login – i.e. you must activate the password recovery option in advance, not when you are not able to log in.
Security password recovery  application can be found in the Information System Settings. You enter a security question and an external email address to which you will receive a recovery instructions message after you reset your password. You should remember the information you entered – preferably save it to a password manager.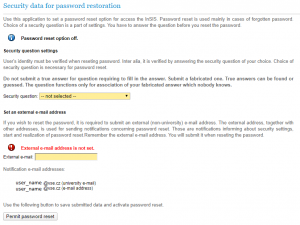 Applicants for Study
Applicants for study are generated with a temporary username consisting of only numbers.
If you have forgotten your password, you can generate a new one using the link Generating a New Password  on the home page of Electronic Application for Study at VŠE, see the picture below. You will receive your login information on the email you provided when you created your application, so you should use one that you have access to.
You do not know / remember the eduroam/VPN password
There is no initial password for eduroam/VPN – you must set a password yourself, otherwise you will not be able to use eduroam or school VPN.
To set the eduroam/VPN password, go to https://eduroam.vse.cz/heslo/. When you change your password, make sure that you are on eduroam.vse.cz in your browser address bar. To set/change your password, you must know your school account password.
You can change your eduroam/VPN password at any time. This will also resolve the forgotten password.